Enjoyment Hotel Almrausch with Pool
Outdoor pool with roof - usable all year
Water and holidays belong inseparably together. Because humans are not only largely made up of water, we also emerge from it. That's exactly why we feel particularly comfortable in water as the saying goes "feel good like a fish in water"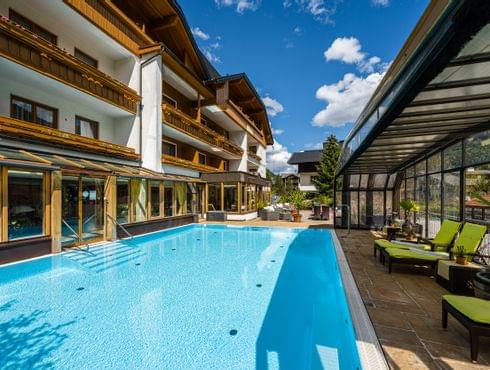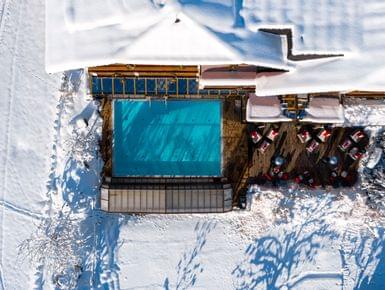 This is why we enjoy SPA
sanitas per aquam
Health through water. After all, it is our source. Our primal state and feeling good in water is always somehow coming home. Because when plants and later animals left water as a living environment, they 'took it with them'. We carry the water around with us in our bodies, so we are 'walking water', so to speak. Our heated, covered convertible outdoor swimming pool offers everything that enthusiastic swimmers and bathers are looking for, as the roofing can be opened in fine weather! Counter-current system, massage jets, neck shower, water temperature 29 °C.
Stress and hectic are forgotten - just switch off and let go! Our wellness oasis and relaxation area also offer regeneration and relaxation.
WHEN AND WHERE DO THE BUSES GO FROM HOTEL ALMRAUSCH TO THERMAL RÖMERBAD?
DO I HAVE TO PAY FOR THE SHUTTLE BUS TO THE THERMAL BATHS?
AS A GUEST AT HOTEL ALMRAUSCH, DO I GET DISCOUNTS ON SPA ADMISSION?
CAN I ALSO BUY MY TICKETS FOR THE THERMAL BATHS AT THE HOTEL?
CAN I TAKE HOTEL BATHROBES AND TOWELS INTO THE SPA?
TOPIC SPA IN BAD KLEINKIRCHHEIM: WHAT DO THE HEALTH INSURANCE COMPANIES PAY?