Hotel with sauna in Bad Kleinkirchheim
Sauna, steam bath and more at Hotel Almrausch
Sauna, steam bath and co. are healthy, keep you fit and are an ideal way to beat the cold season. They strengthen the immune system, train the heart and circulation and are also good for the skin. Sauna is relaxation, so it is important to enjoy the temperatures with temperament at your leisure. For the first sauna session, we recommend a duration of approx. 8-10 min. The higher the bench, the higher the temperature. Basically, it is more effective and healthier to sweat briefly but vigorously on the upper benches. However, you must always be able to feel comfortable doing so. The last minute or two, you should sit back on the lowest bench to get your circulation used to being upright.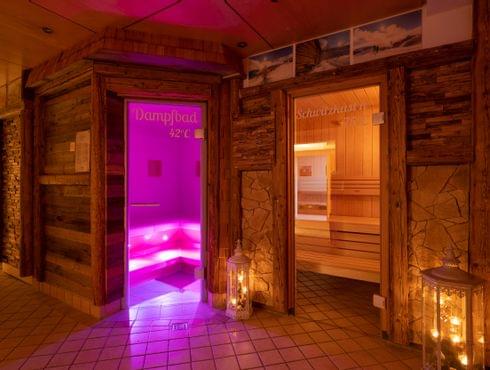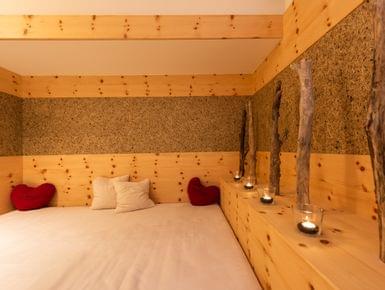 After the sauna session comes the cool down period. It is important that each sauna session is followed by a rest period to relax the body. This time should be at least as long as the sauna session. It is important to ensure that the body does not cool down. A bathrobe or a blanket can help here.
After the resting phase, the body should relax.
After the resting phase, the whole fun starts all over again: sweating, cooling down and resting. For the second and third sauna session, you can definitely sweat for a few minutes longer.

A wide variety of saunas await you in the basement, where you can loosen up and warm up your muscles after skiing or hiking. The stone pine sauna is particularly beneficial: the stone pine wood has been proven to lower blood pressure and provide deep relaxation. It's no coincidence that beds in the mountains used to be made of Swiss stone pine!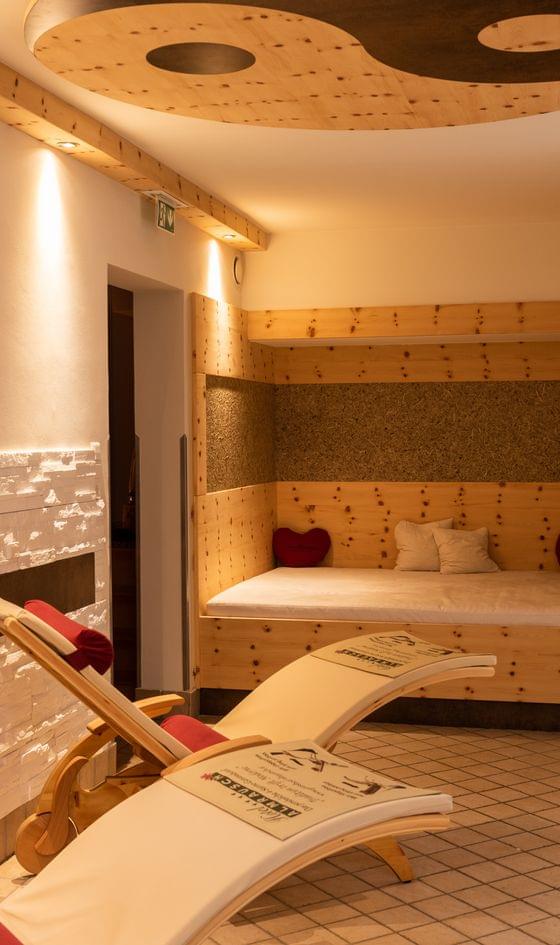 Our great
Almrausch Sauna World
Pine sauna (90 °C)
Sanarium with coloured light therapy (60 °C)
Steam bath (42 °C)
"Sweat cost" (75 °C)
Physiotherm-.Infrared cabin
Heat bench and heat couch
Showers and surge shower
Resting couches
Solarium (for a fee)
Opening hours daily: from 04.00 p.m. to 07.00 p.m.