The Prices
at the 4-star Hotel Almrausch


Frühlingsduft
25.5.2022 - 10.6.2022
Wandergenuss
11.6.2022 - 1.7.2022
Kärntner Sommer
2.7.2022 - 26.8.2022
Wandergenuss
27.8.2022 - 23.9.2022
Herbstfarben
24.9.2022 - 1.11.2022
Doppelzimmer Sonnwiesen
ohne Balkon, 22m²
€77.00
€86.00
€96.00
€86.00
€77.00
Doppelzimmer Zirbe-Birke
mit Ostbalkon, 23m²
€79.00
€88.00
€98.00
€88.00
€79.00
Doppelzimmer Almrausch
mit Südbalkon, 22m²
€81.00
€90.00
€100.00
€90.00
€81.00
Einbettzimmer
ohne Balkon, 15m²
€81.00
€90.00
€100.00
€90.00
€81.00
Einbettzimmer Superior
22m²
€111.00
€120.00
€130.00
€120.00
€111.00
Familienzimmer Nockalm-Zirbe
mit Südbalkon, 27m²
€97.00
€106.00
€121.00
€106.00
€97.00
Familienzimmer Speick
mit Südbalkon, 26 bis 28m² , teilw. Stockbett und Wohnecke
€99.00
€108.00
€123.00
€108.00
€99.00
Junior Suite Sonnwiesen
ohne Balkon, 37m²
€106.00
€115.00
€130.00
€115.00
€106.00
Appartement Speick
mit Westbalkon oder Südbalkon, 36m², 2 Schlafzimmer und Wohnecke
€113.00
€122.00
€137.00
€122.00
€113.00
Appartement Komfort-Kathrein
mit Ostbalkon, 37m², 2 Schlafzimmer, 2 Bäder und Wohnecke
€115.00
€124.00
€139.00
€124.00
€115.00
Comfort-Suite Granat-Zirbe
mit Südbalkon, 64m², 2 Schlafzimmer, 2 Bäder und Vorraum
€123.00
€132.00
€147.00
€132.00
€123.00
excl. local and accommodation tax € 3,30 (per person and day, from 18 years, incl. contribution to Sonnenschein Card). When booking a family room and / or higher category, it comes, depending on the season, to a surcharge for an occupancy of only 2 adults (without children)
For allergy sufferers: All rooms are equipped with a wooden floor and bedding without feathers.
Booking only with our gourmet breakfast buffet: deduction of € 10,- per adult on the current list price
For bookings less than 5 nights, there is a surcharge of € 10,- per person / night. (Summer 2022)
For bookings less than 5 nights, there is a surcharge of € 15,- per person / night. (From Winter 2022-2023)


Frühlingsduft
25.5.2022 - 10.6.2022
Wandergenuss
11.6.2022 - 1.7.2022
Kärntner Sommer
2.7.2022 - 26.8.2022
Wandergenuss
27.8.2022 - 7.10.2022
Herbstfarben
8.10.2022 - 1.11.2022
Bis 1,99 Jahre
pro Kind
€0.00
€0.00
€0.00
€0.00
€0.00
2 bis 5,99 Jahre
pro Kind
€7.00
€7.00
€12.00
€7.00
€7.00
6 bis 11,99 Jahre
pro Kind
€22.00
€22.00
€32.00
€22.00
€22.00
12 bis 16,99 Jahre
pro Kind
€34.00
€34.00
€42.00
€34.00
€34.00
Ab 17 Jahre
pro Kind
30%
30%
30%
30%
30%


Adventzauber
8.12.2022 - 22.12.2022
Weihnachten / Neujahr
23.12.2022 - 7.1.2023
Freie Pisten
8.1.2023 - 27.1.2023
Semesterferien
28.1.2023 - 3.3.2023
Sonnenskilauf
4.3.2023 - 16.4.2023
Doppelzimmer Sonnwiesen
ohne Balkon, 22m²
€93.00
€122.00
€97.00
€111.00
€97.00
Doppelzimmer Zirbe-Birke
mit Ostbalkon, 23m²
€95.00
€124.00
€99.00
€113.00
€99.00
Doppelzimmer Almrausch
mit Südbalkon, 22m²
€97.00
€126.00
€101.00
€115.00
€101.00
Doppelzimmer Komfort Nockalm Zirbe
mit Südbalkon, 27m²
€117.00
€157.00
€121.00
€141.00
€121.00
Einbettzimmer
ohne Balkon, 15m²
€97.00
€126.00
€101.00
€115.00
€101.00
Einbettzimmer Superior
22m²
€127.00
€156.00
€131.00
€145.00
€131.00
Familienzimmer Speick
mit Südbalkon, 26 bis 28m² , teilw. Stockbett und Wohnecke
€119.00
€159.00
€123.00
€143.00
€123.00
Junior Suite Sonnwiesen
ohne Balkon, 37m²
€126.00
€166.00
€130.00
€150.00
€130.00
Appartement Speick
mit Westbalkon oder Südbalkon, 36m², 2 Schlafzimmer und Wohnecke
€133.00
€173.00
€137.00
€157.00
€137.00
Appartement Komfort-Kathrein
mit Ostbalkon, 37m², 2 Schlafzimmer, 2 Bäder und Wohnecke
€135.00
€175.00
€139.00
€159.00
€139.00
Comfort-Suite Granat-Zirbe
mit Südbalkon, 64m², 2 Schlafzimmer, 2 Bäder und Vorraum
€143.00
€183.00
€147.00
€167.00
€147.00
excl. local and accommodation tax € 3,30 (per person and day, from 18 years, incl. contribution to Sonnenschein Card). When booking a family room and / or higher category, it comes, depending on the season, to a surcharge for an occupancy of only 2 adults (without children)
For allergy sufferers: All rooms are equipped with a wooden floor and bedding without feathers.
Booking only with our gourmet breakfast buffet: deduction of € 10,- per adult on the current list price
For bookings less than 5 nights, there is a surcharge of € 10,- per person / night. (Summer 2022)
For bookings less than 5 nights, there is a surcharge of € 15,- per person / night. (From Winter 2022-2023)


Adventzauber
8.12.2022 - 22.12.2022
Weihnachten / Neujahr
23.12.2022 - 7.1.2023
Freie Pisten
8.1.2023 - 27.1.2023
Semesterferien
28.1.2023 - 3.3.2023
Sonnenskilauf
4.3.2023 - 16.4.2023
Bis 1,99 Jahre
pro Kind
€5.00
€5.00
€5.00
€5.00
€5.00
2 bis 5,99 Jahre
pro Kind
€14.00
€25.00
€14.00
€20.00
€14.00
6 bis 11,99 Jahre
pro Kind
€29.00
€45.00
€29.00
€40.00
€29.00
12 bis 16,99 Jahre
pro Kind
€41.00
€55.00
€41.00
€50.00
€41.00
Ab 17 Jahre
pro Kind auf den Erwachsenenpreis
30%
25%
30%
30%
30%
Save direct booking & benefits
Save direct booking & benefits
When you book through our website, we'll give you up to 5% off or more on the total price - valid for the entire 2021 summer season. Also, take advantage of softer cancellation fees when booking directly than through outside booking channels.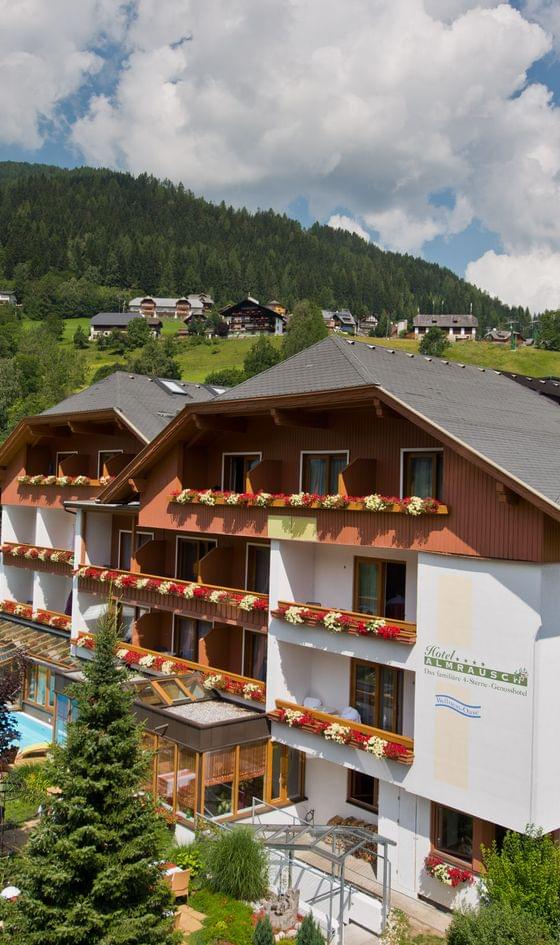 Vacation at Hotel Almrausch
You have already decided on a holiday at the Hotel Almrausch in Bad Kleinkirchheim?
Then you can make your booking online right now!