Cross-country skiing in Bad Kleinkirchheim
Enjoy cross-country skiing at Hotel Almrausch****
Cross-country skiing is only for anti-sports enthusiasts? No way! More and more young people are discovering cross-country skiing as a new trend sport for themselves, also called skating or Nordic cruising. On the cross-country skiing trails, it is now mostly racy-sporty, gladly sometimes off the track. The questions that arise are: Who still needs a gym, when good training is available for free in the wonderful Carinthian winter wonderland? Because hardly any sport burns more calories than cross-country skiing. Depending on your condition and fitness level, you can work out in classic style or skating, or just glide leisurely through the snowy winter landscapes, choosing more or less challenging trails - and thus catering to every level of ambition, from an ambitious training plan to a relaxed winter walk.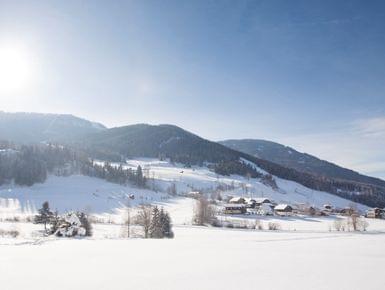 Classic-style cross-country skiing
Cross-country skiing in classic style moves your arms and legs in a way that's easy on your joints, getting your heart and circulation pumping, boosting your metabolism and keeping your immune system on its toes. In addition, not only are countless calories burned, but fitness and performance are also increased thanks to the intense exertion.
In addition, cross-country skiing is clearly the more cost-effective option for sports on the boards that mean the world. Besides, nature is spared, and the recreational effect in the fresh air does body, mind & soul good.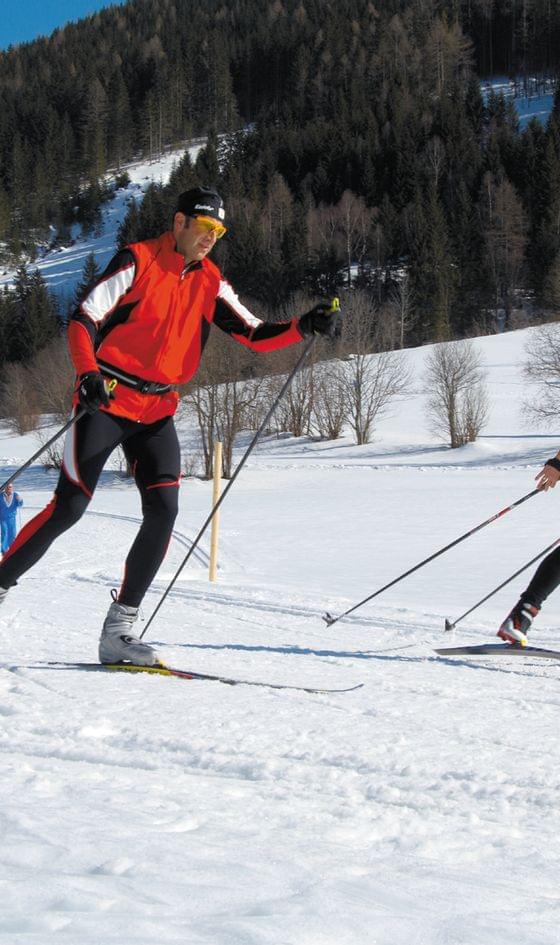 Skating or Nordic Cruising
Skating looks pretty easy and elegant from a distance - the fluid movements, the fast gliding along impress. But anyone who has tried it knows: it's quite strenuous, though. Skating, the fast cross-country variant, is an extremely agile winter sport where you quickly work up a sweat. When you switch to narrow skis as a downhill skier, the very first thing you learn is - nothing comes from nothing.
So when the sun is shining, the snow crystals are glistening and early birds are making their first tracks through the almost untouched winter landscape, it's time for happy hormones.
Live and unplugged. Endorphins, serotonins and dopamines are the order of the day, which means that even the winter blues are overcome pretty quickly. Not to mention the smiles that magically appear on your heart and face.

The trail network
Bad Kleinkirchheim
As cross-country skiing in whatever form is more than en vogue, the network of trails is constantly increasing in scope and quality. In Bad Kleinkirchheim, 10.5 km of trails are available for both classic and skating styles. If there is enough snow, the cross-country skiing network will be extended to up to 40 km.
The Römerloipe with a length of 8 km in Bad Kleinkirchheim delights all cross-country skiing fans with its moderately difficult and varied terrain. Cross-country skiing fun is guaranteed by the possibility of mechanical snowmaking.
The challenging sport trail with a length of 2.5 km in Bad Kleinkirchheim runs parallel to the Römerloipe and can therefore be ideally combined with it. So there is something for every skill level.

advantage
for Sunshine Card owners
In principle, use is subject to a charge - with the Bad Kleinkirchheim Sonnenschein Card (Regionscard), use is free every day!