The 4-star Genusshotel Almrausch
Culinary with G'spür
The 4-star Genusshotel Almrausch
Culinary delights with a G'spür
At Hotel Almrausch, enjoyment is not only writ large, but above all regional. As a certified Carinthian Genusswirt, we are committed to the real, the true and authentic. Enjoyment is therefore always at the top of the agenda at the Almrausch. Because here with us in the Nockberge Biosphere Park, culinary delights and well-being also mean a love of nature. To the region. To quality. And this love goes fabulously well through the stomach. That's why you can enjoy our hearty cuisine, which lives up to its name: good taste, seasonal and regionally balanced, which melts in your mouth. Pleasure for heart and soul. Our menu brings to the plate what nature has in store around us.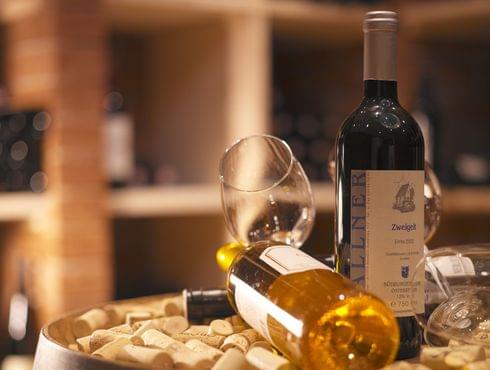 Traditional and Alpe Adria cuisine
at the Genusshotel Almrausch
With our seasonally balanced culinary delights, you can easily indulge your penchant for the good and the tasty! Here, traditional and Alpe Adria cuisine shake hands in a relaxed manner and celebrate unforgettable culinary highlights, always freshly prepared. Ingredients from the region and sustainable, fresh products from the Genussland Carinthia as well as the sovereign nuance of the flavors make every pleasure a specialty.
Wine accompaniment? Directly from our own wine cellar and also from home! The finest wines from all over the world as well as fine wines from the Lavant Valley next door are waiting for you! Water, beer and juices are also sourced from our regional suppliers, so many a glass invites you to take a wine trip through the region.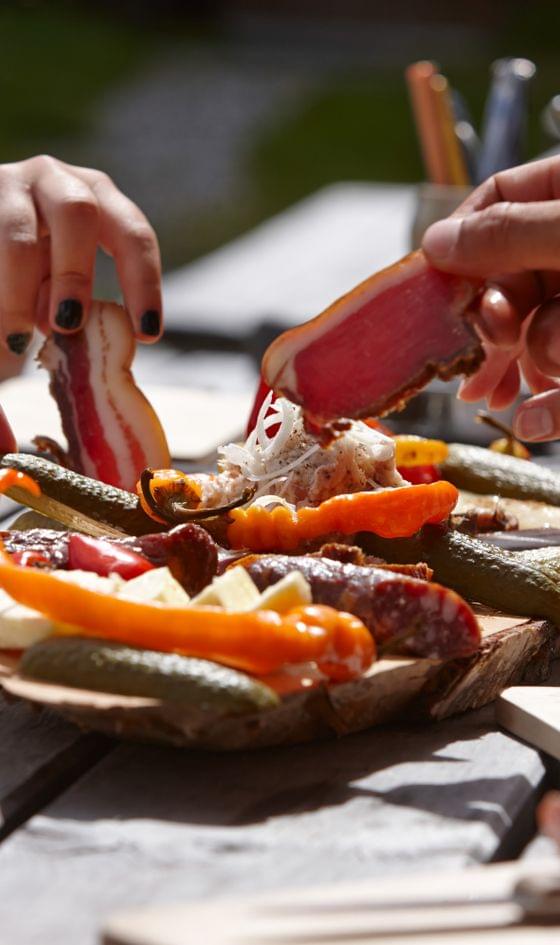 Enjoyment and the idea behind it
Your pleasure restaurant Almrausch
Nomen est omen. At Almrausch, everything revolves around indulgence.
What does that mean?
Almrausch-Verwöhnpension: enjoy from early to late
Enjoyment bar: drinks, cocktails, digestifs, coffee specialties and more with a view of the Nockberge mountains
Weinkeller: the most beautiful place for the weekly wine tasting
Strohsackhütte: ski hut with friendly service and Carinthian delicacies

Our hotel restaurant
with indulgence factor
The hotel restaurant in Bad Kleinkirchheim is reserved exclusively for our house guests. As a maximum of 64 guests can be accommodated in our hotel, a very private and personal atmosphere is guaranteed. Enjoy being pampered in this small, fine setting according to all the rules of warm hospitality - we look forward to seeing you!

Your restaurant in Bad Kleinkirchheim
Quality with a seal of approval
What we promise in terms of enjoyment, we deliver! Host Josef Juritz is a passionate host, wine and cheese sommelier and certified serving master. He demands the highest quality of service from himself and his team. And our guests experience this not only with their own eyes, but often directly and unlugged. There is filleted, carved and flambéed directly at the table, before the eyes of the guest.
The pleasure outfit.
Leger and sporty.
What do you enjoy best in? In a casual, sporty, sometimes dressy outfit. Therefore, please choose your comfortable clothes according to your mood, but please do not wear swimwear or a bathrobe.

Your Carinthian Genusswirt
Our Seal of Quality
Hosts that place particularly high value on regional and Austrian products are allowed to bear the predicate "Kärntner Genusswirt" after a thorough examination. It does not matter whether it is a restaurant, hotel, rustic inn or ski hut. The decisive factor is the strictly prescribed use of food from Carinthia and Austria.
The AMA seal of approval confirms the successful test: beef and pork, milk, eggs, fish, potatoes and other products are demonstrably from the Alpine Republic. Carinthian specialties and delicacies from the designated Genuss regions complement the diverse range.
Free download: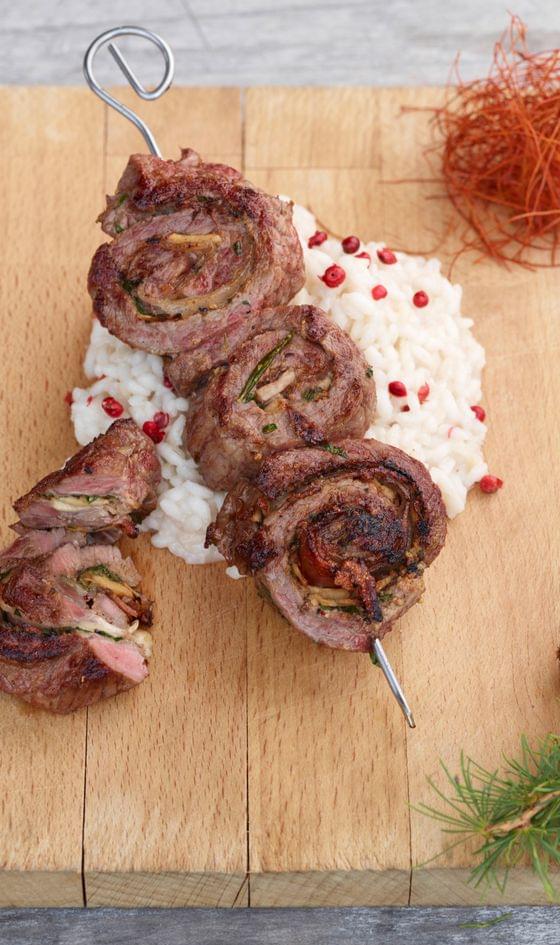 The Alpe-Adria cuisine
Traditional and meditteran
Carinthia's cuisine is shaped by a wide variety of regions and influences. There is the down-to-earth peasant cuisine with its traditional dishes, for which Carinthia is known and loved far beyond its borders. One example is the Carinthian noodles, which smell wonderfully of fresh mint and are, of course, hand-crumbled. In the vernacular it is said that a woman is "marriageable" when she can krendeln. The lakes, which are rich in fish, and the proximity to Italy and Slovenia, and thus to the Adriatic Sea, bring a Mediterranean flavour to Carinthian cuisine, adding sophistication and a colourful bouquet of flavours to the hearty country fare.
The juxtaposition and coexistence of flavours, fresh ingredients and traditional methods of preparation is what makes the "Alpe-Adria cuisine" so appealing. Therefore, let yourself be culinary surprised and inspired anew on every holiday day.