Thermen in Bad Kleinkirchheim: pure relaxation
Near the thermal baths in St. Kathrein and at the Thermal Römerbad: Hotel Almrausch
Your personal four-star pleasure hotel Almrausch is located close to the popular thermal baths in Bad Kleinkirchheim. The family-friendly Therme St. Kathrein is a five-minute walk away, and the Thermal Römerbad is just a 20-minute walk or a short ride on the free shuttle bus.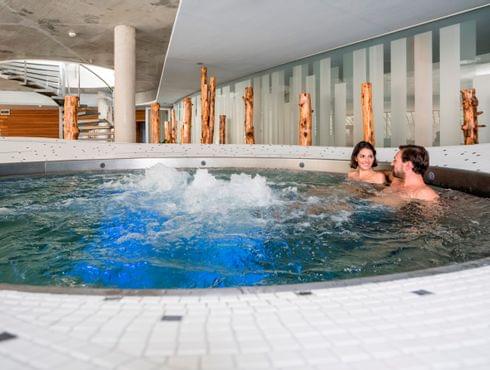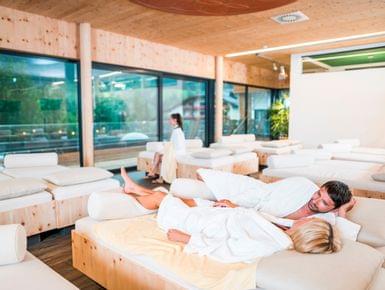 Therme Bad Kleinkirchheim:
Wellbeing for centuries
The forces of nature are bundled in a special way in the Carinthian Nockberge mountains: Fresh, clear mountain air, the diverse medicinal herb Speik and the radon-containing thermal water, which bubbles ceaselessly from the depths of the earth at 36 degrees Celsius, provide health and new energy for body, mind and soul. The healing power of the thermal water in Bad Kleinkirchheim was already mentioned in documents about 500 years ago. The water, which is enriched with the noble gas radon, brings relief from rheumatic complaints, refreshment in the case of joint and vertebral diseases and rapid recovery after injuries and operations. It strengthens the immune, cardiovascular and circulatory systems - and by the way, a stay in the thermal baths in Bad Kleinkirchheim is also fun!

Therme St. Kathrein
Family and Health Spa in Bad Kleinkirchheim
A total of 1,200 square metres of water surface are spread over two thermal outdoor pools and thermal indoor pools respectively. A separate toddlers' area and plenty of space to play ensure that families with children feel completely at ease. Adults appreciate the tranquillity of the varied saunas, relaxation rooms and sun terraces.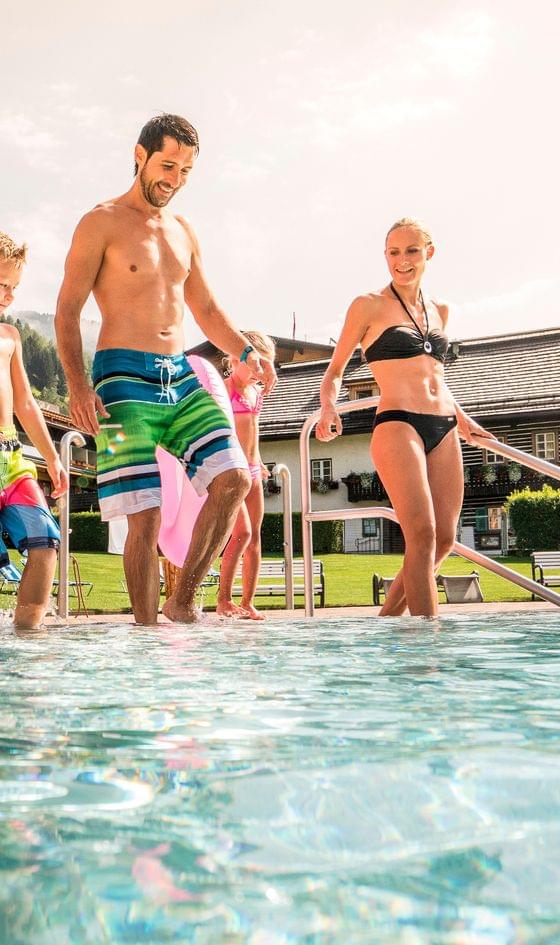 Therme St. Kathrein at a glance
Offer for families and adults (newly-renovated 2017)
1.200 m² water surface: five indoor, two outdoor and connecting pools
NEW: 86 m long Nockbergerutsche - longest fun slide of all Carinthian thermal spas
NEW: Sun terrace
NEW: Rest and mediation area with Swiss pine
NEW: Nockmed health centre
Massages, therapies, courses around nutrition and lifestyle
Outdoor sauna, grotto, steam sauna, Finnish sauna, herbal sauna, Roman tepidarium
Liege, sun terrace, relaxation rooms
Hot Whirl-Pool
Aqua fit water gymnastics, cosmetics, pedicure
Adventure pool and children's pool
Bathrobe and towel rental (for a fee)
Water temperature inside: 32-34°C
Water temperature outside: connecting pool 32-34°C
The separate outdoor pool has 20-25 degrees in summer and is not heated in the cold season.
More information and contact
Therme St. Kathrein Therme St. Kathrein Betriebsführungs GmbH
Thermal Römerbad
Stylish thermal spa in Bad Kleinkirchheim
Opened in 2007, the Thermal Römerbad is one of the most beautiful alpine wellness temples in Europe! On three levels, goddess Cardea ensures the harmony of body, soul and spirit. The modern, noble ambience with a clear reference to the region inspires just as much as the fabulously beautiful view of the gentle Nockberge mountains.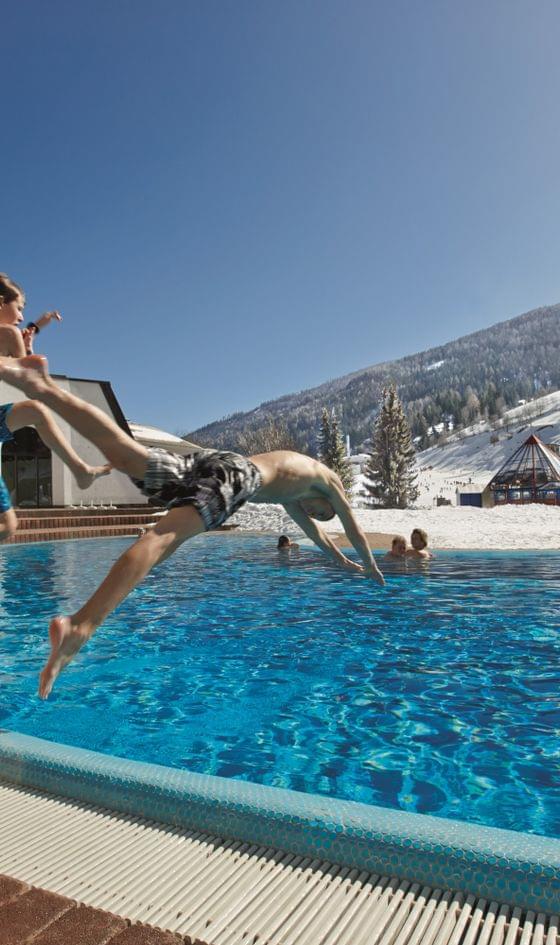 Thermal Römerbad at a glance
mediterranean pampering
The three levels of the spa in Bad Kleinkirchheim are named Romanum, Noricum and Maximum. Three different wellness worlds for recreation, relaxation and for families invite you to discover:
Romanum: The outdoor wellness world convinces with bathing level, sauna garden with thermal water pool, two outdoor saunas and sunbathing areas in the park landscape.
Romanum for children: Indoor and outdoor areas, toddler pools and play zones offer plenty of space for the offspring. Here is no "shhh!", family fun is announced.
Noricum: Here the regional nature sets the tone. Water, forest and stone are found in the stone sauna, pine sauna and the adventure pools again. Wellness bar, beauty and massage area complement this world of pampering.
Maximum: The most exclusive level convinces with Roman lifestyle (Finnish sauna, steam sauna, brine inhalation, infrared cabin, bio sauna, semi-roofed outdoor pool as a connection to the outside, solariums - for a fee)
Hourly tickets, evening tickets, discounts for seniors, children and families (children from the third child free!)
Bathrobe and towel rental (for a fee)
Further information and contact
Thermal Römerbad

Book your spa stay
in Bad Kleinkirchheim
Fun, wellness, health and well-being with a stay at the thermal baths in Bad Kleinkirchheim: it's best to book your room at the four-star Genusshotel in Carinthia right now!
Frequently asked questions
Thermen Bad Kleinkirchheim
WHEN AND WHERE DO THE BUSES GO FROM HOTEL ALMRAUSCH TO THERMAL RÖMERBAD?
DO I HAVE TO PAY FOR THE SHUTTLE BUS TO THE THERMAL BATHS?
AS A GUEST AT HOTEL ALMRAUSCH, DO I GET DISCOUNTS ON SPA ADMISSION?
CAN I ALSO BUY MY TICKETS FOR THE THERMAL BATHS AT THE HOTEL?
CAN I TAKE HOTEL BATHROBES AND TOWELS INTO THE SPA?
TOPIC SPA IN BAD KLEINKIRCHHEIM: WHAT DO THE HEALTH INSURANCE COMPANIES PAY?